TAEKO's New Album "CONTEMPLATION" On Sale Now!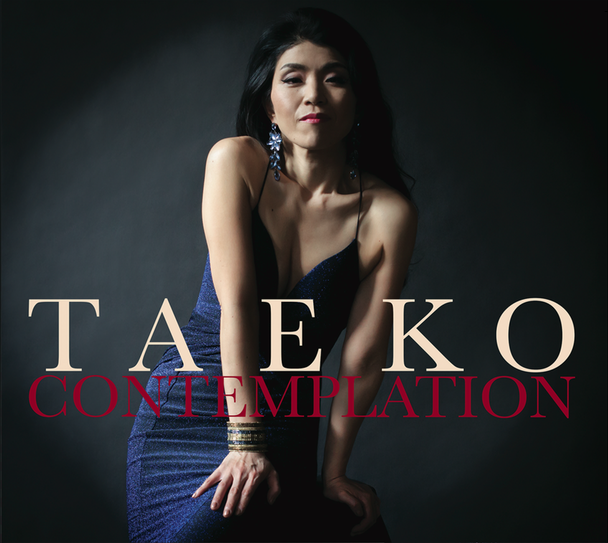 Click here to listen to samples and purchase.

Download One Sheet (PDF)
PR Contact: Scott Thompson

"A masterpiece. TAEKO's "CONTEMPLATION" sings truth to power with much love."
@~Lamon Fenner gLamonfs Jazz Break at Eight,h WHCR 90.3 FM The Voice of Harlem, NY www.whcr.org


gThe spirit and exuberance of a live in-performance session| I kept expecting tumultuous (and well-deserved) applause after each track.h
@~Steve Krawitz, gJazz for the Common Man,g WESS 90.3 FM


"TAEKO's voice stands out among the many today that attempt to capture our hearts. Her delivery is traditionally cool and yet deliberate and reassuring. With energy that is honest, her lyrics become blissful and luxurious"
@~Pete Fallico, KCSM, The Bay Area's Jazz Station


Full-page feature on Hot House Jazz Magazine! (October 2019) Another Reason to Celebrate - By Elzy Kolb.

Music was her first love, but it took vocalist TAEKO a long time to realize that it can also be a profession ... Read more


TAEKO Explores from McCoy Tyner to Doug Carn with CONTEMPLATION

Internationally-acclaimed jazz songstress from Japan, TAEKO releases her 4th album in the U.S. as a leader on October 10, 2019 entitled CONTEMPLATION (Flat Nine Records).

In TAEKO's own words (pronounced Tie-Koe): "This album shows my true love and dedication to the African-American classical art form called jazz, as a singer who came from Japan where this music is truly loved."

With a never-ending stream of musical ideas and fluidity of delivery that shows years of studying her craft, TAEKO has built a distinctively unique approach to jazz in addition to mastering the traditional vocal and instrumental aspects. This album features songs written by the beloved jazz greats such as Ceder Walton, Mal Waldron, Billie Holiday, Chick Corea, Bill Evans, and Benny Golson, with TAEKO's unique point of view and arrangement.

The album starts off with the tribute to this yearfs centennial celebration of Art Blakey, with TAEKOfs arrangement of the Japanese titled Cedar Walton Jazz Messenger classic gUgetsuh.

The title track, McCoy Tyner's "Contemplation", continues Taeko's exploration of the Doug Carn songbook, her latest interpretation of the keyboardist/composer's lyrics, following her successful previous recordings of his words to Wayne Shorter's "Infant Eyes", Bobby Hutcherson's "Little B's Poem" and Miles Davis's "Blue In Green". Taeko's arrangement of the song adds Sumie Kaneko's koto (Japanese 13-string harp) to the group, giving the pensive piece a distinctive Eastern tinged meditative flavor.


Track Info:
1. UGETSU: FANTASY
2. LEFT ALONE
3. CONTEMPLATION
4. GRACIOUS
5. HAMABE-NO-UTA
6. THE SONG IS YOU
7. BETCHA BY GOLLY, WOW
8. WALTZ FOR DEBBY
9. THE SUN DIED
10. HIGH WIRE
11. I REMEMBER CLIFFORD
Personnel:
TAEKO - Vocal
Theo Hill - Piano
François Moutin - Bass
Victor Jones - Drums
Guest: Sumie Kaneko - Koto
Producers: TAEKO, Victor Jones, Jeff Jones
Executive Producer: Michael Wolk

Upcoming Performances:
September 27th, 2019
The 75 Club
75 Murray Street, New York, NY 10007
212-406-7575

October 10th, 2019
Birdland Jazz Club
315 West 44th St New York, NY 10036
212-581-3080
Biography:
TAEKO moved to New York City from Shiga, Japan in the late 90's and quickly garnered the nickname "Songbird" from the NYC jazz elite. With a stunning four octave range, she sings with "deep soulfulness reminiscent of Anita Baker with sophisticated scatting a la Ella" as jazz critics have described.

With a never ending stream of musical ideas and a fluid delivery that shows years of dedication in studying her craft, little is left to doubt how TAEKO has built a dedicated fan base in both the U.S. and overseas. Growing up in Japan, she was inspired early on by the traditional Japanese music her father and grandfather sang, and has been singing as long as she can remember. TAEKO's interest in American music was piqued while still a young child. In her formative musical years she counts traditional jazz, modern American music, and Eastern music among her influences in shaping her contemporary vocal style.
Release Date: October 10th, 2019
Label: Flat Nine Records
Catalog Number: 019 101
Formats: CD, Digital


Booking Contact
Hiroshi Kono / Mar Creation
Publicity & Media inquiries
Scott Thompson PR